If you want a glimpse into the future of creative practice, there may be no better place to find it than the broad, light-drenched central atrium of California College of the Arts (CCA)'s main building in San Francisco. Known affectionately as "the Nave," the flexible space stretches 350 feet from front door to back, serving both as the primary route from point to point within the building and as a hub of creative and curricular activity.
Stroll through the Nave on any given day, and you may discover an array of finely crafted furniture, a congregation of beautifully attired dressmakers' forms, or an assemblage of architectural models, all awaiting review and critique from their creators' professors, peers, industry professionals, and anyone from the CCA community who happens to pass by. Come back a few hours later and the walls may be covered with ink-on-paper figure drawings, digital projections, or colorful illustrations. In early November, you're likely to encounter a community-built Day of the Dead ofrenda; in May the space will be transformed into an exhibition venue showcasing the work of graduating students.
"There are few, if any, art schools that value transparency around the process of learning and making like we do."
CCA President
"There are few, if any, art schools that value transparency around the process of learning and making like we do," says CCA President Stephen Beal. "That transparency cuts across programs and disciplines. Most architecture programs, for example, are sequestered in separate buildings on university campuses. At CCA, an architecture student will walk through the Nave and get bombarded with a painting critique, an industrial design critique, a fashion critique, and a graphic design critique just to get to their studio class. It will have an impact. And perhaps it will encourage them to collaborate on a project with a fashion design student, or to consider a different approach than they would otherwise, based on that exposure."
The Nave—with its flexibility and transparency, where making and learning happen in the open and all who pass by are welcome participants in the creative discourse—is a profound example of how CCA's built environment supports and encourages an approach to education that is rooted in making and places a premium on collaboration, experimentation, risk taking, and inclusivity.
Creating spaces that provide intentional opportunities to amplify these ideas is the driving force behind CCA's campus expansion. When CCA students begin their fall 2022 semester on a single, residential campus that brings together fine arts and design, craft and architecture, writing and making, it will be a moment decades in the making. And when Double Ground, CCA's innovative campus expansion, is completed two years later, it will mark the culmination of years of visioning, dreaming, strategizing, planning, questioning, listening, learning, collaborating, fundraising, designing, and building—all in the service of creating a campus that will, as Beal says, "redefine arts education for the future."
The value—some would say necessity—of this redefinition is becoming increasingly clear, as our world's thorniest problems demand solutions from radically creative people prepared to lead change, not just react to it. CCA's founding values and established pedagogy, emphasizing experiential learning, interdisciplinarity, sustainability, and connection to community, have positioned the college particularly well to lead this approach to education. And its global approach ensures that ideas and influences flow freely into its San Francisco campus, and are carried around the world as CCA graduates embark on their careers.
Designing to CCA's values
From its founding in 1907, CCA has been steeped in the principles of the Arts and Crafts Movement—a melding of theory and practice; an integrated approach to art, design, and craft; and a commitment to social activism and engagement. Since its inception, the school has specialized in "educating those who do," emphasizing the value of craft and making in concert with theory and scholarship.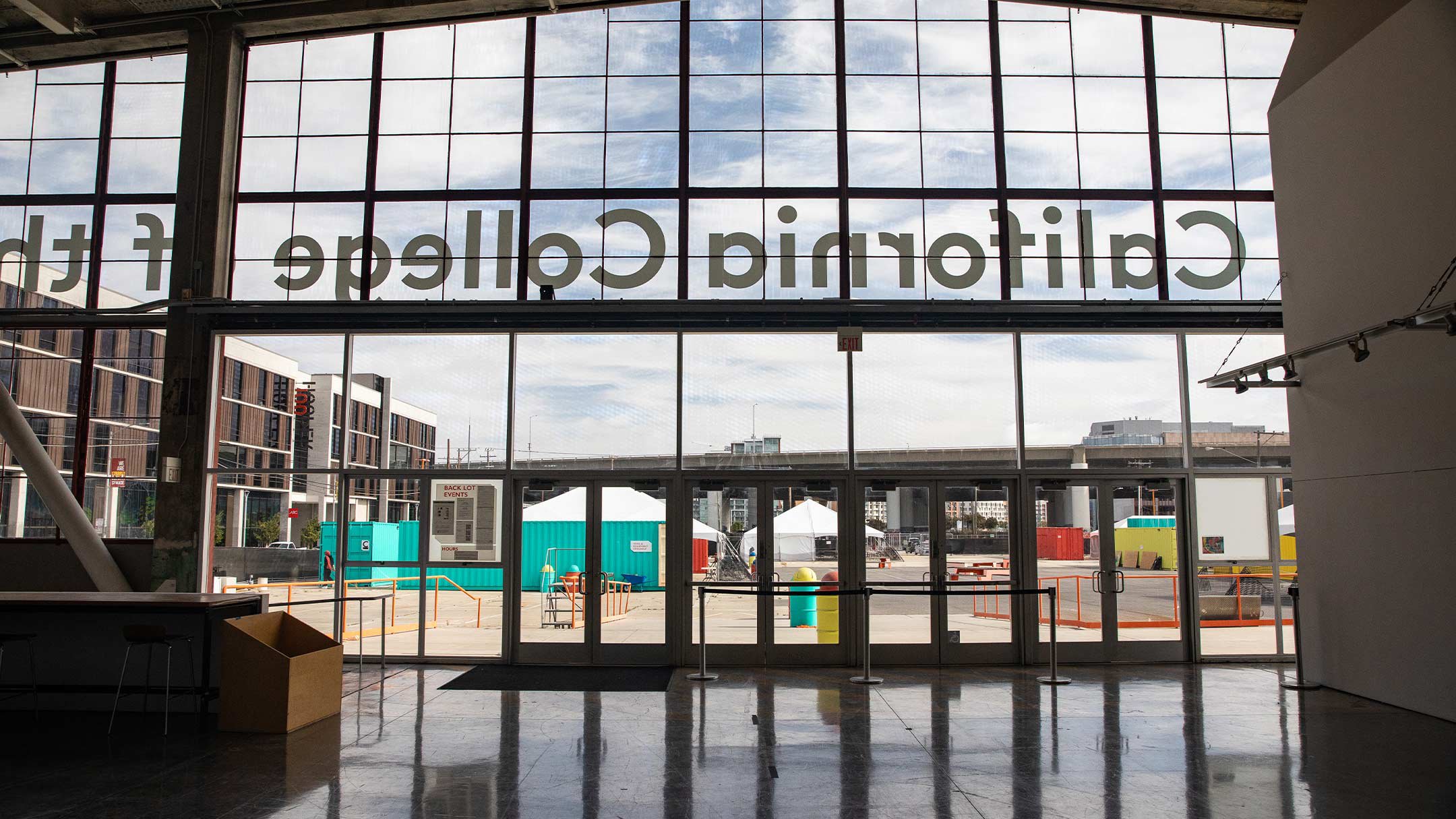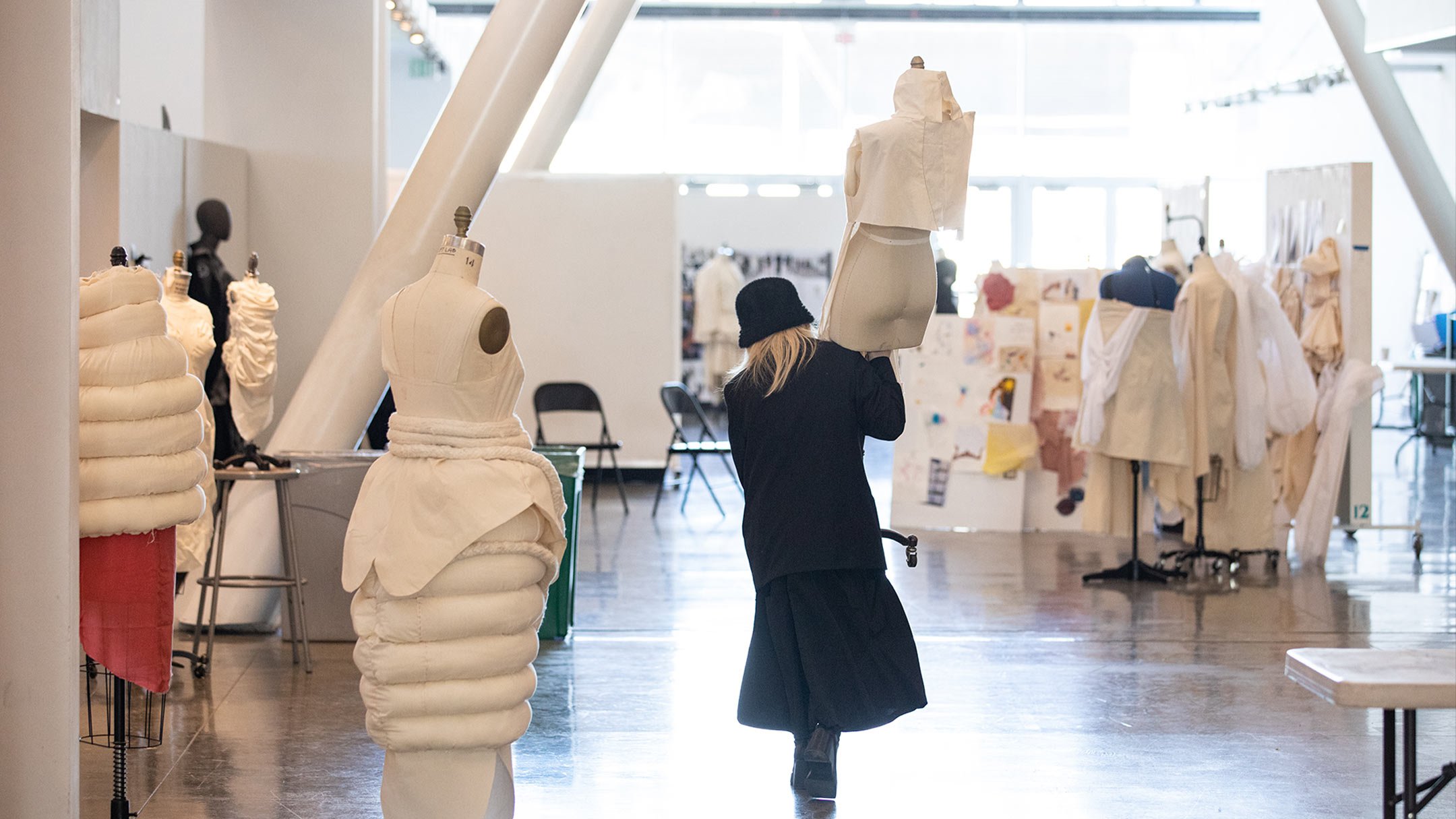 Those principles hold as true today as they did more than a century ago. When CCA sought a partner to bring them to life in the built environment of a twenty-first-century campus, the college found it in Studio Gang, an architectural firm noted for its innovative use of materials; commitment to environmental sustainability; and deep research into the history, mission, and values of the organizations it works with. The project will transform the Backlot—a 2.4-acre open space adjacent to CCA's main building—into a hub of making and learning; an interdisciplinary laboratory for practice and ideas that is welcoming, functionally flexible, and carbon neutral.
"The project will transform the Backlot into a hub of making and learning; an open, interdisciplinary laboratory for practice and ideas that is welcoming, functionally flexible, and carbon neutral."
Studio Gang Founding Principal Jeanne Gang and her team spent many hours listening to the ideas, concerns, and vision of those who know CCA best—both during the original discovery and design phase, and over the course of a recent review encompassing lessons learned through the pandemic. Students, faculty, studio managers, alumni, and many others offered their insights, and what the team heard informed the design on both practical and human levels. Among the priorities for the CCA community was a design that would "anticipate and support the pace of change in education," "embody creative risk and experimentation," "make green space work," and fully integrate the campus and the surrounding neighborhood.
The resulting design is an architectural embodiment of the values and pedagogy that are central to CCA's mission. It will be, as Gang puts it, "creatively hackable," a fluid space that serves the needs of students and faculty today that can also easily evolve to support whatever creative practice and pedagogy require in the decades to come.
Double Ground
Studio Gang's innovative design, "Double Ground," is so named because it will have essentially two ground levels. The "lower ground," at street level, will house workshops and studios requiring heavy equipment: facilities for ceramics, metal, sculpture, and furniture, among others. Wide doorways and a continuous floor without steps or thresholds will enable heavy materials to be moved around easily (the transparency of these glass-walled spaces ensures ideas move easily among them, too).
Many of these ground-floor spaces open into shared "maker yards," flexible outdoor courtyards that serve as extensions of the surrounding shops while encouraging interaction and chance encounters among students working in a wide variety of disciplines and media. The "upper ground" is a second main level featuring an outdoor plaza and a park-like garden, with views into the maker yards below. Dotted with plants and trees, this welcoming green space brings something of a traditional college-campus feel to the site and continues the opportunity for cross-disciplinary interactions and spontaneous meetings.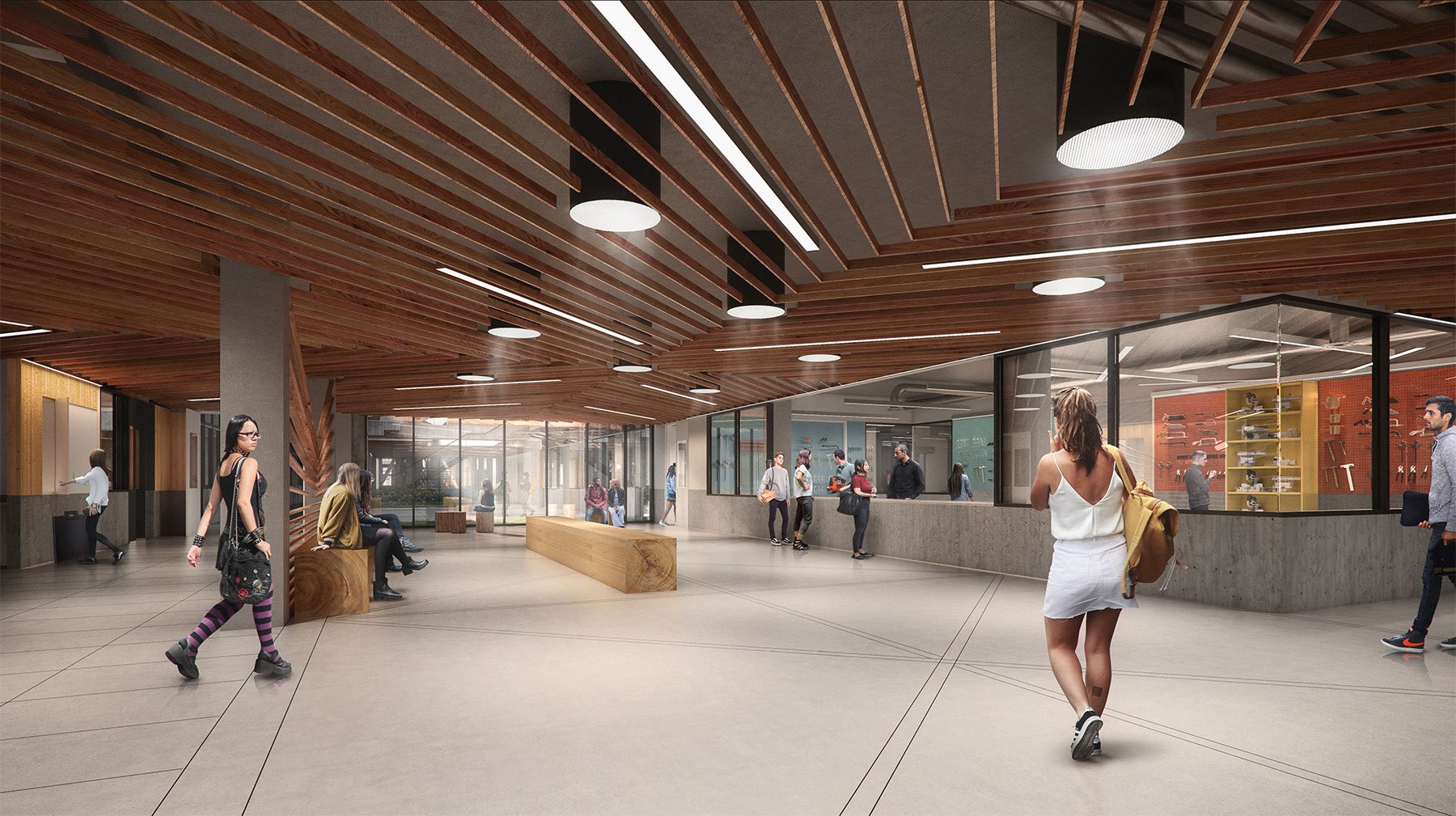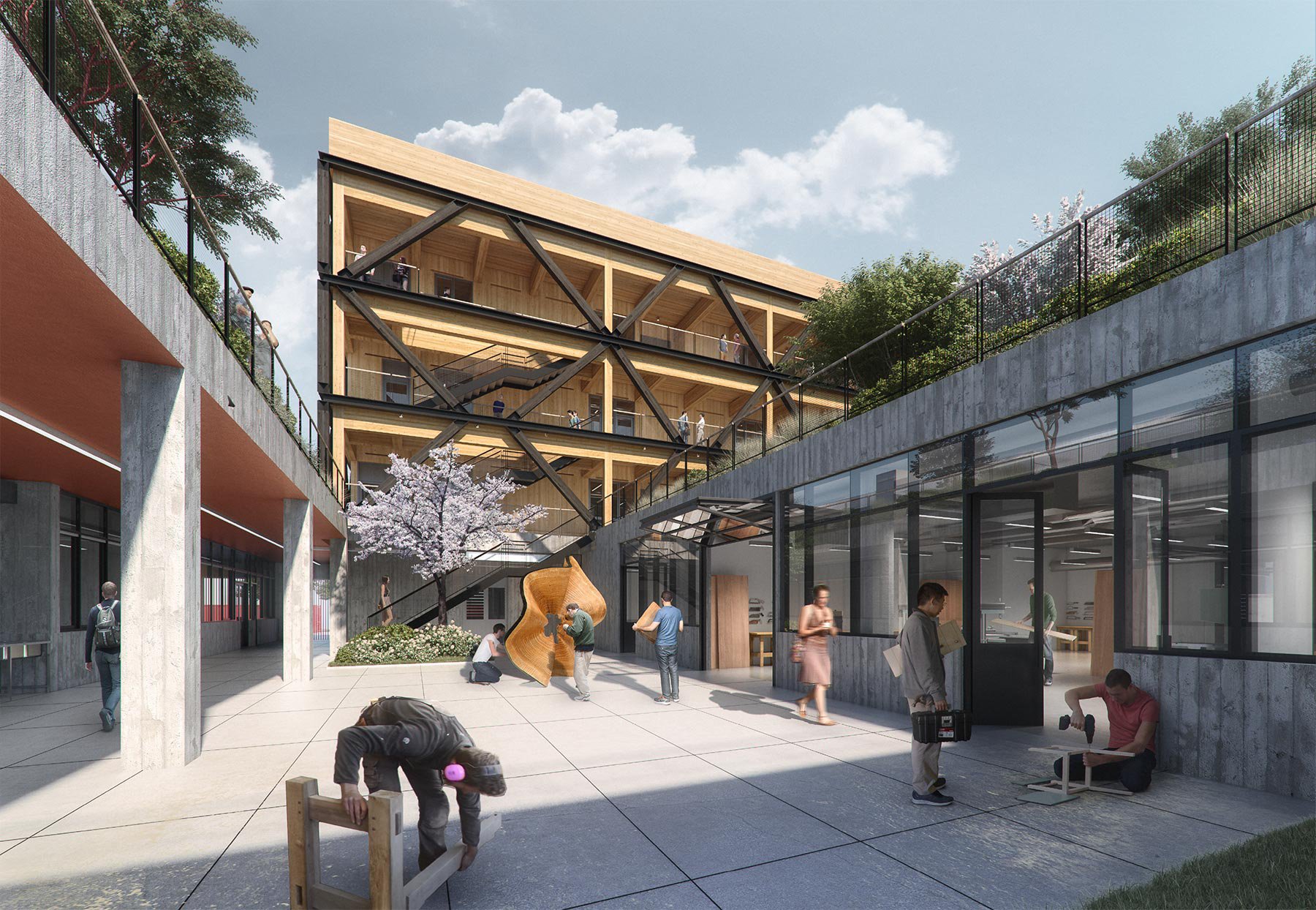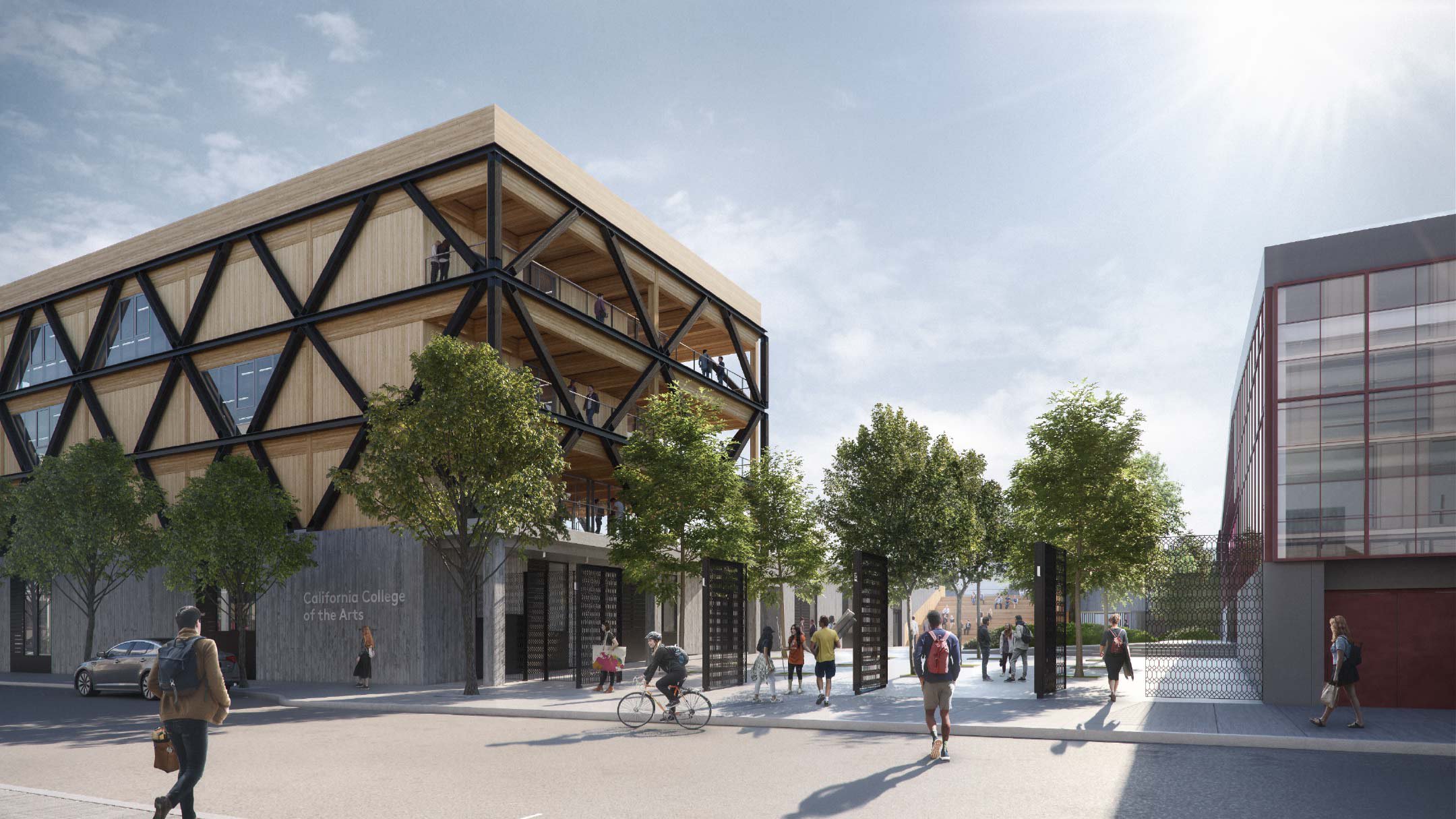 A living, learning laboratory
Despite pandemic disruptions that delayed the construction of Double Ground (a new timeline is in the works for the project, which was scheduled to break ground just as the pandemic hit in April 2020), other elements of CCA's campus expansion and unification were able to continue as planned—including the college's transformation to a residential campus with capacity to house about 50 percent of students within blocks of their classrooms, workshops, and studios.
When CCA's Board of Trustees first outlined its vision for an expanded campus more than a decade ago, it identified the development of student housing as a top priority, understanding its importance to building an inclusive creative community. The assignment was daunting: construct enough on-campus housing to transform CCA into a residential campus, keep the cost to students comparable to peer institutions across the country, and do it in one of the most challenging housing markets in the world.
With ingenuity, collaboration, support from the city, and the generosity of donors who shared the vision for a residential campus, Blattner Hall opened in the fall of 2018 with 30 apartment-style units housing 200 students. In the fall of 2020, Founders Hall opened adjacent to the main building (and soon, Double Ground), adding about 500 more beds for first-year, second-year, and graduate students. Makers Cafe, a full-service dining hall and cafe, serves fresh, healthy meals to students, faculty, and staff and will eventually be open to the public as well.
As programs and housing unify in San Francisco, the college is honoring the legacy of its historic Oakland campus with a series of events, projects, and curricular initiatives designed to preserve artifacts and memories, celebrate history, and honor the legacy of craft, social impact, and learning through making that has defined CCA since its founding more than a century ago. With a thoughtful, flexible design that embodies this legacy, the expanded San Francisco campus is well positioned to carry this rich history forward into the new spaces and traditions that will define CCA into its next century.